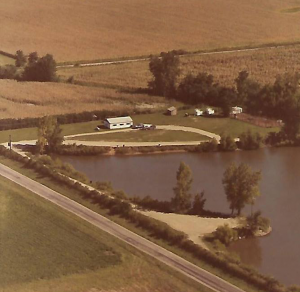 The North Fork Conservation Club's clubhouse is situated at the north end of our property, within walking distance of our 7 acre, stocked lake. The clubhouse is open to both members and non-members.
Saturday from 12 pm – 7pm
We're open all day Saturday for our Fish Fry. In addition to fish, we have burgers, tenderloins, shrimp, and more. Most of our menu stays the same from week  to week.
Pull up a chair and stay a while! We love visiting with the community and offering a place for members of the community to visit with one another. All guests are welcome to hang out and socialize while the clubhouse is open. You're welcome to bring games to play inside. Or bring your musical instruments and entertain other guests. You can even bring a book, sit under our awning, and enjoy the beautiful view.
Do you have an upcoming event?  A birthday party? A family gathering?  A meeting for your organization?
Contact one of our board members to inquire about renting the clubhouse. We offer discounts for conservation organizations as well as recurring rentals, such as weekly/monthly meetings.
Clubhouse rental is subject to availability and does not include kitchen.